Welcome to the Sing Wiki!
Welcome to the Sing Wiki, the unofficial collaborative encyclopedia for the animated comedy adventure film Sing, which premiered in the United States on December 21st, 2016. This wiki is your number one source of information about the characters, songs, cast and much more from Sing!
We currently have 19,748 edits to 390 articles and 2,357 images on this wiki.
Please be aware that this wiki contains all kinds of information about Sing, including occasional spoilers for the movie. If you have yet to see Sing, please view our wiki cautiously. We have provided spoiler warnings on pages and comments when necessary.
Characters
Read about more characters here!
Featured character (February 2019): Becky
Becky is a female porcupine and Lance's current girlfriend in Sing. She is voiced by Tara Strong.

Becky is an anthropomorphic porcupine. She has light blue eyes, tan fur, and brown and tan quills. Her quills are "styled" differently compared to Ash's quills, as they grow differently and she has quills that go across her forehead to imitate bangs. She wears a red and black striped dress and a jean jacket, along with black leggings and black sneakers with red laces, a golden chain necklace, and pink heart-shaped glasses (later taken by Ash). She also wears mascara and light purple eyeshadow.

Becky is friendly, and to some point clueless, as she didn't seem to grasp the fact Ash was Lance's girlfriend, and for some reason she chose to stay with him even after she found out he'd been in a relationship with Ash and had not officially broken it off before she walked in on them. While performing with Lance, she plays a tambourine.
She later scoffs at Ash's talents when she and Lance watch her perform on TV, purely because she is either jealous or because she didn't get her sunglasses back and probably saw Ash wear them during her performance.
(Read more...)

---
Previously featured characters:


Vote for the next featured character on the poll on the right of the page!
Editing
We need your help expanding and adding articles to the wiki!
Join us to help grow our community! If you don´t know where to start:
First, you must create an account (read more here).
When you have an account, you can edit, comment, add to your blog, chat with other users, and more.
You can also upload a picture or video, but please check the "Images" and "Videos" section located in our navigation bar to ensure you aren't uploading a duplicate.
If you are having trouble with something here, please contact one of our administrators listed on this page.
---
---
If you're new to Wikia, please use the links above to get started or ask the
Admins
of this wiki. If you already have editing experience and have an article relating to
SING
to contribute, use the box below to create it:
Administrators
The following people are administrators of this wiki:


If you have any questions, comments, suggestions or concerns, or simply want to talk about Sing, feel free to send them a message!
Disclaimer
Per FANDOM's Terms-of-Use and COPPA, you must be 13 years of age or older to edit on the Sing Wiki or any wiki. This wiki is for archival and educational purposes only and is not meant to gain any revenue. Sing is owned by Illumination Entertainment and Universal Pictures.
What's happening on the Sing Wiki...
News
---
FANDOM has changed the URL of this wiki from sing.wikia.com to sing.fandom.com, effective January 23, 2019. This is an effort that is being done to almost all other FANDOM communities. Nothing else is being changed on our wiki. Thanks!
---
Sing will be leaving Netflix on February 3, 2019. However, it will be premiering on FX very soon after. Stay tuned for updates.
---
Rosita and Gunter performing "Shake it Off" and Johnny performing "I'm Still Standing" have both reached 100,000,000 views on YouTube!
Blogs
Create blog post
Blogslist
Happy 2 year anniversary to Sing! I enjoyed it as much as I enjoyed Zootopia! I'm ready for the sequel to Sing in 2020!

Read more >

On this day, 2 years ago, Sing officially came to theaters! I still love this movie with all of my heart, and now we are just 2 years away from the release of Sing 2! I also want to announce that it's v…

Read more >

Meena decides to return to her team the next morning. Johnny, Mirabella, Rosita, Ash, Meena, Gunter, Mike, and Moon decide to go out to lunch at a sandwich shop. Meanwhile, 6 female coyote sisters wh…

Read more >
See more >

The Sing Wiki on social media
Sing: the official website
Want to learn about Sing from a commercial point-of-view? See the official website for Sing here!
---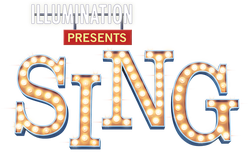 Talk with others about Sing!
Polls
Vote for March 2019's featured character here!
Who is your favorite main character?
Whose performance in Sing did you enjoy the most?
Have you checked out "The Sing Collection" playlist on Spotify yet?