Welcome to the Sing Wiki!
Welcome to the Sing Wiki, the unofficial collaborative encyclopedia for the animated comedy adventure film Sing, which premiered in the United States on December 21st, 2016. This wiki is your number one source of information about the characters, songs, cast and much more from Sing!
We currently have 20,203 edits to 392 articles and 2,397 images on this wiki.
Please be aware that this wiki contains all kinds of information about Sing, including occasional spoilers for the movie. If you have yet to see Sing, please view our wiki cautiously. We have provided spoiler warnings on pages and comments when necessary.
Characters
Read about more characters here!
Featured character (May 2019): Unnamed beaver
The beaver is a minor character in Sing.
Not much is shown regarding his personality in the movie, as he only appears very briefly. The beaver is part of the stage crew from the Moon Theater's last show that is angry with Buster Moon on account of their paychecks bouncing. He later appears auditioning for the singing competition, where he sings the 1980 Oscar-nominated song "9 to 5" by Dolly Parton.
---
Previously featured characters:


Vote for the next featured character on the poll on the right of the page!
Editing
We need your help expanding and adding articles to the wiki!
Join us to help grow our community! If you don´t know where to start:
First, you must create an account (read more here).
When you have an account, you can edit, comment, add to your blog, chat with other users, and more.
You can also upload a picture or video, but please check the "Images" and "Videos" section located in our navigation bar to ensure you aren't uploading a duplicate.
If you are having trouble with something here, please contact one of our administrators listed on this page.
---
---
If you're new to Wikia, please use the links above to get started or ask the
Admins
of this wiki. If you already have editing experience and have an article relating to
SING
to contribute, use the box below to create it:
Administrators
The following people are administrators of this wiki:


If you have any questions, comments, suggestions or concerns, or simply want to talk about Sing, feel free to send them a message!
Disclaimer
Per FANDOM's Terms-of-Use and COPPA, you must be 13 years of age or older to edit on the Sing Wiki or any wiki. This wiki is for archival and educational purposes only and is not meant to gain any revenue. Sing is owned by Illumination Entertainment and Universal Pictures.
What's happening on the Sing Wiki...
News
---
Sing 2 has been delayed from its originally planned release on December 25, 2020 to July 2, 2021.
---
Sing premiered on FX on Tuesday, March 5, 2019 at 8 PM ET/7 PM CT following The Secret Life of Pets. There was an encore presentation following its premiere. This was the first time the film was played on American cable television.
---
FANDOM has changed the URL of this wiki from sing.wikia.com to sing.fandom.com, effective January 23, 2019. This is an effort that is being done to almost all other FANDOM communities. Nothing else is being changed on our wiki. Thanks!
---
Rosita and Gunter performing "Shake it Off" and Johnny performing "I'm Still Standing" have both reached 100,000,000 views on YouTube!
Blogs
Create blog post
Blogslist
Happy 2 year anniversary to Sing! I enjoyed it as much as I enjoyed Zootopia! I'm ready for the sequel to Sing in 2020!

Read more >

On this day, 2 years ago, Sing officially came to theaters! I still love this movie with all of my heart, and now we are just 2 years away from the release of Sing 2! I also want to announce that it's v…

Read more >

Meena decides to return to her team the next morning. Johnny, Mirabella, Rosita, Ash, Meena, Gunter, Mike, and Moon decide to go out to lunch at a sandwich shop. Meanwhile, 6 female coyote sisters wh…

Read more >
See more >

Featured image (May 2019)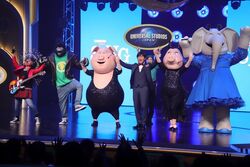 A shot of the
Sing on Tour
opening ceremony.

From "Sing on Tour", a new live show attraction at Universal Studios Japan.
Featured video (May 2019)
The Sing Wiki on social media
Sing: the official website
Want to learn about Sing from a commercial point-of-view? See the official website for Sing here!
---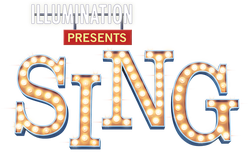 Talk with others about Sing!
Polls
Vote for June 2019's featured character here!
Who is your favorite main character?
Whose performance in Sing did you enjoy the most?
Have you checked out "The Sing Collection" playlist on Spotify yet?